X
Užduokite klausimą vadybininkui
Dėl prekės: "Kupoliniai stoglangiai Lamilux F100"
Kupoliniai stoglangiai Lamilux F100
Produkto vadybininkas:
Tomas Juknis
8 687 21670
tomas.juknis@serfas.lt
Aprašymas
BENEFITS AT A GLANCE
ROOFLIGHT F100
---
ENERGY EFFICIENCY
The Rooflight F100 meets all the requirements of the German Energy Performance of Buildings Directive of 2014
Fully insulated GRP upstand with a U-value of 0.9 W/m²K
Perfect thermal connection, such as a thermal insulated base flange
Design completely free of thermal bridges for optimum U-values and reduced risk of condensation
Life cycle assessment made easy: There is a comprehensive Environmental Product Declaration for the Rooflight F100 in accordance with ISO EN 15804
STABILITY
NEW: The world's first Rooflight F100 with certified watertightness in heavy rain and during storms (DRI 3.0 m²/s with a reference size of 120 x 120 cm)

Tested and classified according to EN 1873 - 2014 (first European product standard for Rooflights) – e.g. for wind and snow load bearing capacity
SAFETY & SHEV
Preventive fire protection: Compliance with DIN 18234 – Prevention of fire spread on the roof without additional measures such as gravel fill
Meets the requirements of EN 12101-2 for smoke and heat exhaust ventilation units
Improved sound insulation and protection against driving rain
COMFORT
NEW: Our Rooflight F100 is BIM-ready – Download at

bimobject.com

The Rooflight F100 can be ventilated when locked by default – ventilation units can be retrofitted at any time
Safe and easy installation in different roof types and roof sealing systems
Optional: Aluminium and steel sheet upstands
GLAZING TYPES
Our range of glazing options for the Rooflight F100 system takes into account individual aspects according to the following requirements:
Incidence of daylight – Transparency and light diffusion
Energy efficiency / thermal insulation
Sun protection / protection against heat
Sound insulation
Self-cleaning
Safety – Fall-through protection system and burglar-proof
GLAZING MATERIALS
Composite
Glass-fibre reinforced composite (hard roofing – resistant to flying sparks and radiating heat according to DIN 4102-7)
Impact-resistant composite
Optional:
Rooflight F100 as a dark flap / GRP sandwich panel (thermal insulated, opaque)
Sun protection glazing (e.g. heatstop)
LAMILUX UPSTANDS
THE PERFECT CONNECTION FOR A WIDE RANGE OF ROOF TYPES
LAMILUX JOINTLESS GRP UPSTAND
Available with upstand heights of 15, 30, 40 and 50 cm
Seamless upstand
Complies with DIN 18234 without additional measures
Element pre-mounted on the upstand, ex works
IMPROVE LIGHT TRANSMISSION: LAMILUX REFLECTIVE
The light transmittance of the daylight element is increased by up to 50% due to the patented principle of cladding with highly reflective aluminium material
Up to 33% savings in energy used for artificial light
Elegant surface finish gives high-quality interior appearance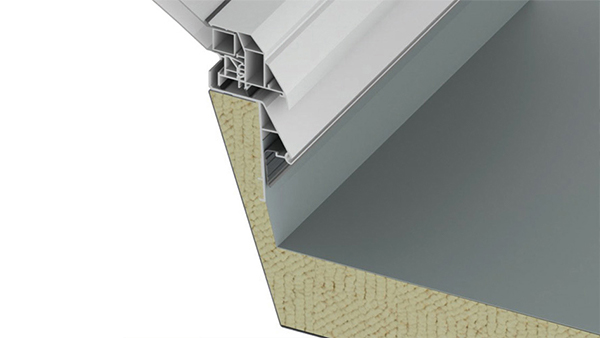 LAMILUX STEEL SHEET UPSTAND
Special composite connection profile avoids thermal bridges – unlike metal head profile frames
Professional, mechanical connection to various types of roof sheeting
Available with or without thermal insulation
Height: 40 or 50 cm
Coil coated in RAL 9010
Steel sheet upstand: Fire class A1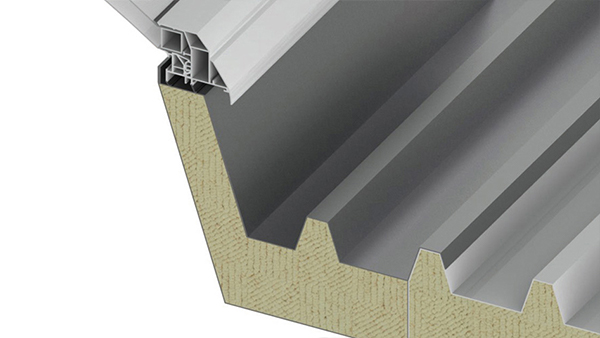 LAMILUX ALUMINIUM UPSTAND
For profiled and flat roofs
Building-specific production
Individual adjustment to the profile of the base flange
Core-insulated upstand also available with a flat base flange
Only suitable for buildings with thermotechnically requirements
Base flange either flat or profiled (also available with heat insulation on underside, see image)
CONNECTION TECHNOLOGY USED IN LAMILUX UPSTANDS
UPSTAND CONNECTION DETAILS
LAMILUX HARD PVC CONNECTING RAIL
As an option, the hard PVC connecting rail can be laminated onto the base flange at the factory and seal-welded in the corners. High polymer PVC and VAE roof sheeting can be welded directly onto the base flange using an expanding air or hot air welding process. Shown with thermal insulated base flange.
LAMILUX STAIRCASE SMOKE EXTRACTION
THE SIMPLE ALTERNATIVE FOR STAIRCASES
Our standard sets for smoke removal from staircases offer simple and easy staircase smoke extraction without costly SHEV calculations. Click here for more info.
ACCESSORIES
ROOFLIGHT F100
---
NEW: SPOT WELDED FALL-THROUGH PROTECTION GRID
ALREADY PRE-ASSEMBLED AT THE FACTORY: FOR MORE TIME ON THE CONSTRUCTION SITE
Element completely pre-mounted on the upstand, ex works
Recesses for ventilation drives or SHEV fittings ex works
Filigree appearance due to small retaining straps and thin bearing bars
Permanent fall-through protection
Techniniai duomenys
Visą techninę informaciją rasite ČIA