X
Užduokite klausimą vadybininkui
Dėl prekės: "Lygūs stoglangiai Lamilux F100SG"
Lygūs stoglangiai Lamilux F100SG
Produkto vadybininkas:
Tomas Juknis
8 687 21670
tomas.juknis@serfas.lt
Aprašymas
BENEFITS AT A GLANCE
GLASS SKYLIGHT F100
---
Available in double or triple glazing, toughened safety glass (TSG) on the outside and laminated safety glass (LSG) on the inside (LSG can be fitted with a clear or matt-light film) with Ug-values of 1.1 to 0.7 W/m²K

Structure completely free of thermal bridges with a U

w

-value between 1.3 and 1.0 W/m²K, depending on the glazing (as per EN ISO 10077-1 for a reference element measuring 120cm x 120cm)

Thermally insulated, jointless GRP upstand, with a height of 15, 30, 40 or 50cm, with U-values of 0.5 W/m²K to 0.9 W/m²K (depending on the characteristics)

Outstanding air-tightness due to the new double balloon sealing system: Performance class 4 – tested in accordance with EN 12207

Thermally optimised structural attachment, such as a thermally insulated base flange
Life-cycle assessment made easy: There is a comprehensive Environmental Product Declaration for the Glass Skylight F100 in accordance to ISO EN 15804
COMFORT & DESIGN
Farewell to dirty edges: The newly designed frame profile has a smooth transition between the glazing and the frame, allowing rainwater to run off without any obstructions

The new chain drive technology complies with protection class IP 54 and allows easy opening for ventilation purposes

Chain drive – concealed from view and equipped with new, IP 54-rated technology

Our Glass Skylight F100 is BIM-ready – Download at

bimobject.com

Generous daylight incidence and lasting clear views due to scratchproof glazing
Extra convenience, if required, with structural mounts for membrane roofs, prepared at the factory
Optimised sound insulation and minimised rain noise due to special glazing (Rwp = 38 dB)
White, silk-matt appearance inside – no additional drywall construction required
Optional connection to comfort control unit with wireless remote controls
Sun protection inside and outside (optional)
STABILITY
Tested watertightness, even in high wind speeds (driving rain impermeability, in accordance with EN 12208, Class E 1500)

Very high load-bearing capacity due to optimised profiles

Approved fall-through protection
Excellent stability under wind and snow loads
UV-resistant edge bond
SAFETY
The first building approved glass skylight in "Structural Glazing" design – certified by the German Institute for Structural Engineering (Deutsche Institut für Bautechnik, DIBt) in Berlin
Condensation resistant between glass panels, due to thermally decoupled edge bond, unlike plastic domes
Preventive fire protection: Compliance with DIN 18234 – to prevent fire spread on the roof without additional measures such as gravel fill
Can be used as a SHEV system in staircases
Delivery of Glass Skylight F100 completely pre-assembled on the upstand
Resistance to external fire exposure from flying sparks and radiant heat with classification B,roof(t1) according to DIN EN 13501-5
VARIANTS
GLASS SKYLIGHT F100
---
| Values | Double insulating glazing | Triple insulating glazing |
| --- | --- | --- |
| Ug - value | ca. 1,1 W/(m²/K) | ca. 0,7 W/(m²/K) |
| Energy transmission | ca. 57 % | ca. 51 % |
| Sound insulation | ca. 38 dB | ca. 39 dB |
| Light transmission | ca. 80 % | ca. 72 % |
The first building approved glass skylight in "Structural Glazing" design – certified by the German Institute for Structural Engineering (Deutsche Institut für Bautechnik, DIBt) in Berlin
Optional opalescent thermal protection insulating glazing with matt-light film
Outer pane made of toughened safety glass as standard
| Order sizes (upper roof edge dimensions) | | |
| --- | --- | --- |
| 60 / 60 cm | 90 / 145 cm | |
| 60 / 90 cm | 100 / 100 cm | |
| 60 / 120 cm | 100 / 150 cm | |
| 70 / 135 cm | 120 / 120 cm | |
| 80 / 80 cm | 120 / 150 cm | |
| 80 / 150 cm | 125 / 125 cm | |
| 90 / 90 cm | 140 / 140 cm | |
| 90 / 120 cm | 150 / 150 cm | |
LAMILUX UPSTANDS
THE PERFECT CONNECTION FOR A WIDE RANGE OF ROOF TYPES
---
LAMILUX JOINTLESS GRP UPSTAND
Available with upstand heights of 15, 30, 40 and 50 cm
Seamless upstand
Complies with DIN 18234 without additional measures
Element pre-mounted on the upstand, ex works
5 DEGREES INCLINATION IN RENOVATION CASE
For renovations of roof surfaces with low inclination, a gradient for water drainage should be artificially created for skylights. For our LAMILUX Glass Skylight F100 a specially manufactured adapter frame now provides the possibility to subsequently create a 5 degree inclination. It can be adapted to every existing substructure and is already completely pre-assembled with the glass skylight when the flat roof window arrives at the construction site.
IMPROVE LIGHT TRANSMISSION: LAMILUX REFLECTIVE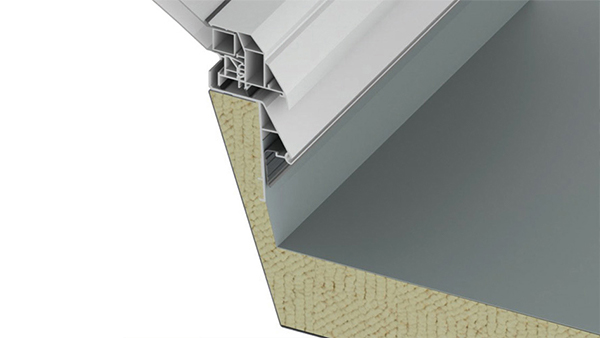 LAMILUX STEEL SHEET UPSTAND
Special connection technology composite profile avoids thermal bridges – unlike metal head profile frames
Professional, mechanical connection to various types of roof sheeting
Available with or without thermal insulation
Height: 40 or 50 cm
Coil coated in RAL 9010
Steel sheet upstand: Fire class A1
CONNECTION TECHNOLOGY USED IN LAMILUX UPSTANDS
UPSTAND CONNECTION DETAILS
LAMILUX HARD PVC CONNECTING RAIL
As an option, the hard PVC connecting rail can be laminated onto the base flange at the factory and seal-welded in the corners. High polymer PVC and VAE roof sheeting can be welded directly onto the base flange using an expanding air or hot air welding process. Shown with thermal insulated base flange.
LAMILUX STAIRCASE SMOKE EXTRACTION
THE SIMPLE ALTERNATIVE FOR STAIRCASES
Our standard sets for smoke removal from staircases offer simple and easy staircase smoke extraction without costly SHEV calculations. Click here for more info.
ACCESSORIES
GLASS SKYLIGHT F100
---
The following models are available, depending on the size:
INTERNAL & EXTERNAL SUN PROTECTION
"SMART HOME" CONTROL PACKAGE
Convenient remote system for controlling ventilation and shading motors
Additional motors can be added
Simple, remote controlled manual operation
| Basic set | Possible expansions |
| --- | --- |
| Remote controlled manual operation | Wind- and rain monitoring |
| Timer | Outdoor temperature monitoring |
| Automatic ventilation according to indoor temperature | App control |
| Control of sun protection | |