X
Užduokite klausimą vadybininkui
Dėl prekės: "Lygūs stoglangiai Lamilux FE 3°"
Lygūs stoglangiai Lamilux FE 3°
Produkto vadybininkas:
Tomas Juknis
8 687 21670
tomas.juknis@serfas.lt
Aprašymas
LAMILUX GLASS SKYLIGHT FE 3°
ANGLED ELEGANCE
QUALITY
Optimal thermal insulation thanks to overall structure free of thermal bridges
Intelligent controls for natural ventilation and sun protection blinds
Optimised soundproofing and minimised rain noise
Tightness against driving rain as per DIN EN 1027 = E (1950)
Permeability to air in line with DIN EN 1026 = Class 4
Resistance against wind load in line with DIN EN 12211 = C5
Life-cycle assessment made easy: A comprehensive environmental declaration as per DIN EN 15804, DIN EN ISO 14040, DIN EN ISO 14044 and DIN EN ISO 14025 is available for the LAMILUX Glass Skylight FE 3°
DESIGN
Uniform appearance
Aesthetic, classical and elegant design language
Stepless transition between frame profile and glazing
Unobstructed drainage of water and dirt thanks to the element's 3° inclination
SAFETY
Approved fall-through protection and accessibility for maintenance purposes as per DIN 18008-6
Resistance to external fire exposure from flying sparks and radiating heat with classification B, roof (t1) as per DIN EN 13501-5
High hail resistance thanks to TSG outer pane as a standard feature
USE
Our LAMILUX Glass Skylight FE 3° is BIMready – Download at bimobjects.com
Fully pre-assembled delivery of the element to the construction site
Simple installation
Efficient maintenance
THE VARIANTS
GLASS SKYLIGHT FE 3°: ALUMINIUM PROFILE
---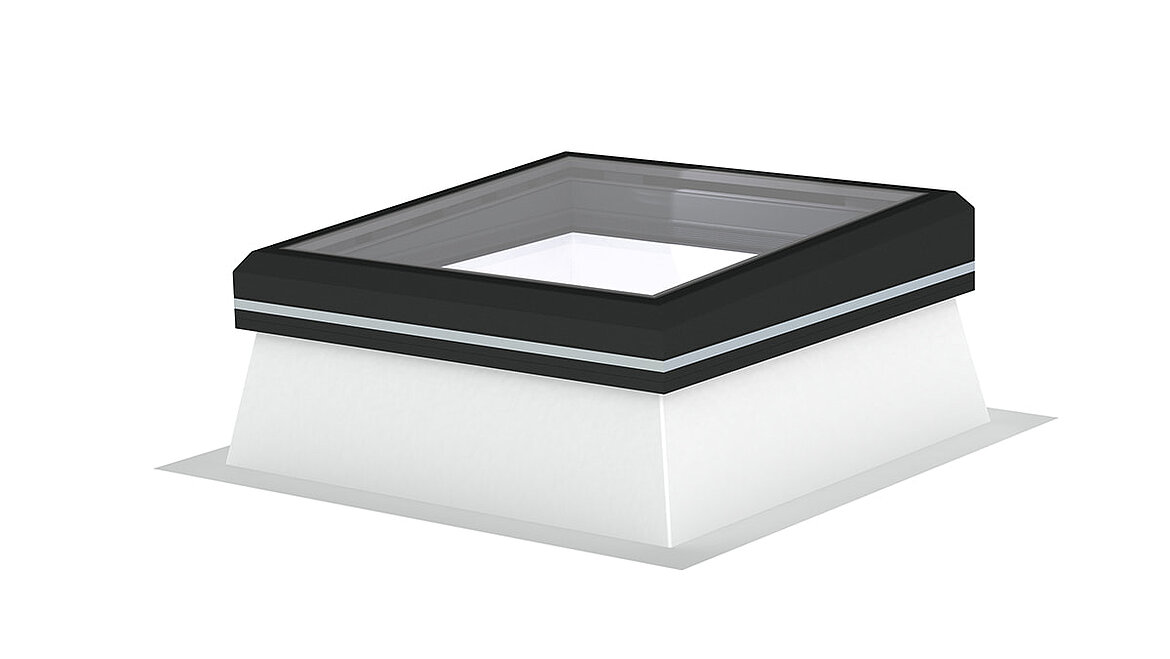 Glass Skylight FE 3°
GLAZING TYPES
Our range of glazing takes into account different aspects on an individual basis
Incidence of daylight – Transparency and light diffusion
Energy efficiency/thermal insulation
Sun protection/protection against heat
Sound insulation
Self-cleaning
Permanently fall-through proof
LAMILUX JOINTLESS GRP UPSTAND
CONNECTION TECHNOLOGY USED IN LAMILUX UPSTANDS
UPSTAND CONNECTION DETAILS
LAMILUX HARD PVC CONNECTING RAIL
As an option, the hard PVC connecting rail can be laminated onto the base flange at the factory and seal-welded in the corners. High polymer PVC and VAE roof sheeting can be welded directly onto the base flange using an expanding air or hot air welding process. Shown with thermal insulated base flange.
ACCESSORIES
GLASS SKYLIGHT FE 3°: ALUMINIUM PROFILE
---
The following models are available, depending on the size and weight of the glass